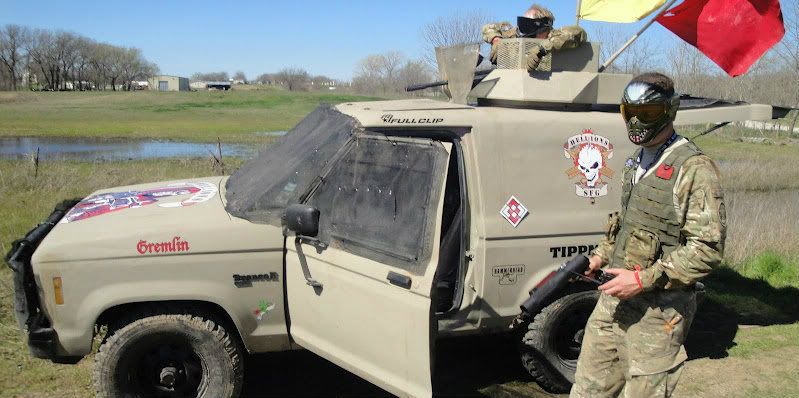 In late fall of 2009 plans began by Hellions ODA 163 members Randy "Flight" Farris and Gary Payne to develop Hellions Light Strike Vehicle 3 know as the Gremlin. The vehicle would be attached to Hellions ODA 163. The development of the Gremlin would be called Project Armadillo.
Farris purchased a Bronco II that the Gremlin would be built on. The plan was to have the Gremlin completed for testing at Bill Bailey's – Panzer Attack in early 2010. Upgrades and improvements would then be made in preparation for Okla. D-Day 2010.
Farris and Payne looked at many different models of military light scout vehicles from World War II to the modern day. Both decided after extensive research that the French Vehicule Blinde Leger or Light Armoured Vehicle would best complement the look of the Bronco II body.
Before construction began two practical goals for the Gremlin were decided upon.
1) The Gremlin had to be street legal
2) It had to have solid a design to be a threat on the paintball field and have a professional milsim look.
The first goal was easy. Solar netting would be used to cover the front and back windows, the side windows would be removed. Solar netting would also go over the grill area and lights protecting them from damage.
The pallet carousel the turret is based on is removable and can be sealed.
The second goal was a bit harder. Would the turret have one or two markers? Would they shoot independently or together? How would we supply air and paint to the marker(s), would the vehicle have a passenger and would it double as a troop transport when needed? Farris and Payne decided to use dual markers in the turret, a single air system would power the markers and be located inside the turret. The markers would be built on a axis point to allow greater range instead of being fixed on the pallet carousel. Meaning the markers have a greater up and down angle as well as side-to-side angle allowing minimal turret movement. The markers would also be fired independently and not make use of cranks or other gadgets that fire the markers simultaneously. The passenger would be a second gunner with access to hatch directly above the driver and passenger. Gun ports would also be cut in the solar netting on the driver and passenger door.
When designing the turret we looked and researched the design of our sister LSV the Grindhouse. We also again looked at real world military turrets, specifically turret designs for HMMWV used in Iraq and Afghanistan. Which is where we got the idea to put the markers on it own independent axis and house the air system in the turret.
Paint storage would be located on modified paintball pod holders attached at a reasonable level for the turret gunner to reach. NERF rockets would be located in the turret and in a easy to reach bag on the side of the turret chair.
Farris and Payne also decided to go low tech and turret movement would be down by good old foot movement of the gunner. It was felt that while a mechanized turret would work it could not work on the turret size. Plus if the mechanized turret stopped working it take time to fix.
Since 2009 the Gremlin has gone through two different colors schemes. Olive Drab Green and now it's current color of Tan. The Gremlin has also upgraded its markers from dual Tippmann 98 Custom to dual Tippmann X7 Phenom for better air efficiency. Our sponsor Hammerhead let us use their best barrels to add to the accuracy of the markers and also lent us barrel breaks to make the markers extra loud. A flame thrower was also added constructed from a compressor tank and high pressure hose.
The Gremlin is a compliment to the Hellions and an asset for any side it plays on.
If you are at a game the Gremlin is at feel free to stop by and check it out and ask Flight and Payne any question concerning the newest member of Hellions armor.
Click any picture to view a gallery of the Gremlin.
Specifications of Hellions Light Strike Vehicle 3 – Gremlin
Base: 1986 Bronco II
Passengers: 3 (Driver/Tank Commander, Passenger/Spotter side door gunner, Turret gunner)
Construction: MIG Welded Steel Frame
Tires: MT-754 Buckshot Mudder
Turret: Pallet carousel with movable turret shield for greater firing angles.
Total on board Paint Storage: Almost 8000 rounds
Commo:
Puxing 777
Puxing 888
External speaker system
External bullhorn on turret
Entertainment:
Base System: iPhone 4
Exterior: 2 marine speakers
Interior: Bronco II stock speakers
Weapon Systems:
Main Gun: Dual Tippmann X7 Phenom
Anti Tank Weapon: Metadyne Havoc
Turret Air Source: Fireman's 45 minute SCBA Bottle from Texas Air Solutions
Driver Marker: Tippmann TPiX
Passenger Marker: Empire AXE
Barrels: Hammerhead barrels with M-50 muzzle tips.
Sponsors:
Hammerhead
Ranger Up
Full Clip
Metadyne Industries
Tippmann
Slotted for upgrades in 2013:
Knock out front windshield.
Possible new paint camo scheme.
Upgraded sound system and new internal and external speakers.